The Mind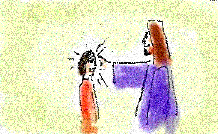 Romans 12:2
And be not conformed to this world; but be ye transformed by the renewing of your mind, that ye may prove what is that good, and acceptable, and perfect will of God.
1. How do you and I conform to this world in our thinking?
2. When we follow the crowd, and dont believe the word of God.
3.What does God recommend we do instead of all that?
4. We become transformed and renew our minds by the word of God.
5.Then what are we able to do in our lives?
Proverbs 16:3
Commit thy works unto the Lord; and thy thoughts shall be established.
1.When we intentionally put ourselves and our plans into the Lords hands, by our own decision, what will the Lord do for us?
Isaiah 26:3
Thou wilt keep him in perfect peace, whose mind is stayed on thee, because He trusteth in thee.
1.What kind of peace will we have if our mind is stayed on the Lord?
2. The original Hebrew word for peace is tamim, and that means, complete, fully grown, mature, a fulfillment.
Luke 8:35
Then they went out to see what was done; and came to Jesus, and found the man, out of whom the devils were departed, sitting at the feet of Jesus, clothed, and in his right mind; and they were afraid.
1.We can see here how the devil brings an unsound mind, and many other destructions to the human personality. But we also see how Jesus totally delivered this man from the grip of the enemy, and returned him to his sound mind. To this day, all the demons of hell are no match for Jesus, who came to set us free from all their power.
Philipians 4:6
Be careful for nothing, but in everything by prayer and supplication with thanksgiving let your requests be made known to God. And the peace of God , which passeth all understanding shall keep your hearts and minds through Christ Jesus.
1.After we have truly left our cares with God, and thanked Him, what then shall keep our hearts and minds from travailing any longer?
2 Timothy 1:7
For God has not given us the spirit of fear; but of power, and of love, and of a sound mind.
1.What spirit is at work in the world for any who do not accept Jesus?
2. But what instead has God given to His children?
3.First we have power, the transformation when we accept Christ,and become sons of God, new creatures.
4. Then we have love, Gods everlasting love for us, now we can love ourselves, knowing how much we are loved, and now we can love others.
5.Next we have a sound mind from power, and love. Thats how it works. A new life in Christ, and loving others as ourselves, and having Gods love for us in our hearts, will result in a sound mind.
---
The Lord showed me the door in Egypt with the blood sprinkled around it, (Exodus 12:21). Into which no foul spirit of evil could enter. I was simply to be willing to commit my mind unto Him and claim and believe and see the blood of Christ over and around my mind.just like that door in Egypt. ÒThe blood is over the door, the world is dead to me and I am dead to the world, you cannot enter under the bloodÓ I spoke to the tormenting thoughts and evil spirits. They backed off, but returned, again and again, they would come, but I simply pointed to the blood over the door of my mind. I thought on the blood whenever they came and soon their power was gone and they ceased their visitations, my mind had rest as I committed all to God and thought on the blood. The spotless Lamb of God has shed His most precious blood for you, to cleanse and free and keep you, not only from sin and sickness, but also from torments and distractions in your mind. Say to all hindering troubling thoughts that keep you from Gods peace, I am dead to you and you are dead to me,say it in faith, say it over, and over,say it persistently, believe that the blood is on the door of your mind and that it is protecting you as God said it would.
---