Those Scars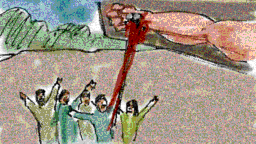 Every prophecy in the Old Testament about Jesus suffering was fulfilled in detail in the New Testament.
Psalm 22:16
They pierced My hands and My feet.
Luke 22:33
And when they came to the place called the skull they crucified Him.
Isaiah 53:5
But He was pierced through for our transgressions, He was crushed for our iniquities; the chastening for our well being fell upon Him, and by His scourging we are healed.
Matt 27:26
Then he released Barabbas to them; and when he had scourged Jesus, he delivered Him to be crucified.
Isiah 50:6
I gave my back to those who struck Me, and My cheeks to those who plucked out the beard; I did not cover my face from shame and spitting.
Matthew 26:67
Then they spat in His face and beat Him with their fists; and they slapped Him.
Psalm 22:7-8
All those who see Me ridicule Me; they shoot out the lip, they shake their head, saying, He trusted in the Lord, let Him rescue Him; let Him deliver Him, since He delights in Him.
. Those scars are quite literally the center of the universe. Without those scars and nail prints we would have nothing, no reconciliation to a holy God. In all the physical and spiritual universe nothing would ever have redeemed us except those scars. The nail prints in Christ hands and feet mean our eternal destiny is sealed and signed in the heavenlies. They are pivotal, they are the deciding factor in the covenant agreement we have with the Father. Those nail prints are our only hope. Such humiliation and pain, yet they have eternal significance for all who accept His death on the cross for us. From death, to the most exalted position in the universe, the highest place of honor, that was Gods plan.
Someday Christ will ask us what we have done for Him, no matter what our response....He will show us those scars.... and say...."here is what I did for you."
---