---
Welcome to Seeds Christian Tracts!
Our purpose is to spread the Good News...that Jesus Christ is Lord! We believe very simply that the Bible is God's Word and the way to salvation is by accepting Jesus' work upon the cross. We believe that ALL Christians ought to be witnessing this Gospel--the free gift that saves ALL!
"That if you confess with your mouth the Lord Jesus, and believe in your heart that God has raised Him from the dead, you will be saved." [Romans 10:9]
We make simple, yet effective Christian tracts that are useful for witnessing and faith building. Click on the links below to find out everything you need to know about receiving your free Seeds tracts. We also have many fun and Spirit-filled Bible studies available for all to use. We pray that the Lord will lead you to utilize our free material in your personal ministry.
---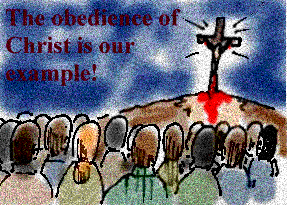 This is our collection of Bible studies and illustrated scriptures. Many are effective for witnessing while others are to encourage Christians in our daily walk with the Lord. They can be used to witness to others across the internet by linking to them and like all of our material they are free for all to use. We pray that the Lord will bless you as you study His Word.
---
Free Christian tracts for you to download and print right on your home computer!
---
This series takes a look at a variety of subjects from the Bible and will lead the participant to look deeper into the scripture by asking inspired questions.We thouroughly believe, that being led from the Holy Spirit, they will be of great benefit because of the anointing on them.They are colorful and filled with interest because that's how the Holy Spirit is!!!! We hope that you will grow in your Christian walk and continue in His word.
---
This is a thorough listing of Christian tract publishers and organizations. Many have websites that you can view right from the links on this page. Most will send free samples and catalogues if you contact them. You are sure to find the tract resources that you need for your ministry using this directory which was compiled by our brother-in-Christ, Ken.
---
Do you have a loved one or co-worker you've been trying to reach for the Lord? New Parable Films video-tracts might just be the witnessing tool that nudges them towards a decision for Christ. Not everyone is receptive to a one on one talk about the Lord. Or will take the time to read a tract. But everyone loves movies, and will watch a short video in the comfort and non-threatening environment of their own home. These videos might just open up the doors for questions about a personal relationship with Jesus Christ. At the very least, they will plant seed into a searching heart. Along with video-tracts, we have also produced some short films that will encourage and uplift you in your Christian walk.
---
These free MP3 files are tracts that witness the Gospel, using many of the Bible scriptures that lead to salvation. They all contain the sinners' prayer. Download them now, use them as the Lord leads you. Send them to people you correspond with on the internet--burn them to CD's--witness Jesus to everyone you meet!
---
At this page we have tracts and Bible studies which have been translated into the Russian language by our friend Eugene Gerasimov. We know they will be a blessing to you and we pray they will help you to witness the Gospel to our friends who read Russian.
---
Our friend and brother-in-Christ George Fields has written a group of tracts/short stories that are truly inspired of the Lord. They are very truthful testimonies that will lead people to Jesus. We hope you will take the time to read them, and to share them with others. Many of them are free downloads that can be printed as well.
---
Do you write, or draw---or just "fool around" on your computer? Has the Lord been bugging you about the gift He has given you? Do you see a special message that is needed for others to see? Are you dissatisifed with the "old fashioned tracts" that are available--want to write a tract that really reaches people, in a way that only you know how to write it? This is the place to make your own tract or Bible study. Make it--print it---distribute it---and we will publish it at our website--in other words SERVE GOD!!!
---
We are very blessed to present these Spiritual poems by Monique Nicole Fox. The wonderful words that the Lord has given Monique will make you think, some may make you laugh, some will witness the Gospel to you--they are all meant to edify. Let her words minister to you, as they have for us. Thank you Monique for expressing the gift the Lord has given you.
---
These pages are meant to encourage children to call upon God when they need help. We have used many Bible examples--Noah, Moses, David--etc. Fun pictures and prayers for young Christians to learn!
---
Free Bible scripture cards--in the King James version--that can be used for witnessing. The Lord has helped us find over 100 scriptures that will lead people to Jesus as Savior. The salvation message is repeated many times over in the Bible and these cards can be printed and distributed easily and inexpensively.
---

We now have 3 tracts available for free download, in Spanish. They all contain the sinners' prayer and are effective for witnessing the Gospel to our friends who speak Spanish.

---

These tracts are designed to be printed directly from your web-browser. If you have a printer, go right to this page and begin your own free tract ministry. We are praying with you that many will be lead to know Jesus through your good and faithful witness, and know that we are blessed to be able to help you with these free soul-winning tracts.

---

Free tracts in the Philippine language of tagalog. It is our pleasure to have available 3 tracts that can be downloaded and printed, as well as viewed.

---

This important scripture is translated into 27 different languages and illustrated with the clear message of salvation. These pages can be used to witness on the internet to people all over the world.We pray the Lord will help you to lead many to Jesus through these words and pictures.

---

We now have free tracts available in many languages! Afrikaans Arabic Chinese Danish Dutch Esperanto Finnish French German Greek Hebrew Hindi Icelandic Italian Japanese Korean Malay Norwegian Polish Portuguese Russian Sinhalese Spanish Swahil Swedish Tamil Vietnamese. Click on the link to go to our international tract page...

Cliquetez ici pour entrer e nos nouvelles etendues en francais!

Klicken Sie hier, um zu unseren neuen Gebieten in Deutsch zu gehen!

---

Come visit "Friends" ministry. Over the past few months we have had the pleasure of getting to know some of our Christian brothers and sisters from Zambia, Africa. We have had wonderful fellowship with our friend Andrew over the internet and have read all about and been able to help out a real work of the Lord going on in this part of the world. Andrew is an excellent Bible teacher and witness for Christ and has written a number of uplifting Bible teachings that we know will bless you. Just click on the link above to visit Friends ministry.....

This page contains the names and mailing addresses of many other Christian tract publishers. Most will send you free samples or catalogues and some have web sites where you can order tracts. Are you a Christian tract publisher? We would be happy to add your contact information to our list. We are also interested in helping you distribute your tracts--If you send us a list of your tracts we will take orders for you from this website--If you have a Christian tract ministry, we want to help!

---

Here is a growing list of some of our favorite Christian places to visit on the web.

---

We all need to find out who we are as Christians in order to be effective witnesses for Christ. This page is a tract that deals specifically with this issue and you can also learn how to distribute "Who Are You" in your church.

---

---

We are praying that you will share the Word of God in a powerful way with everyone you meet and that our tracts will bless you. "For God did not send His Son into the world to condemn the world, but that the world through Him might be saved." [John 3:17]

---

---

Illustrated Bible Teachings----Download Free Tracts---Jumpstart Bible Studies---World Christian Tract Directory---"Jesus Cards"---Web-Browser Tracts---John 3:16 in Many Languages---International Tracts---Friends Ministry bible studies---Links---"Who Are You?"-- Russian Tracts/Bible Studies

Thank you for visiting our website and we hope you were blessed. Please come back again soon. With your prayers and the Lord's help we hope to keep adding to this site. "that the man of God may be complete, thoroughly equipped for every good work." [2Timothy 3:17]